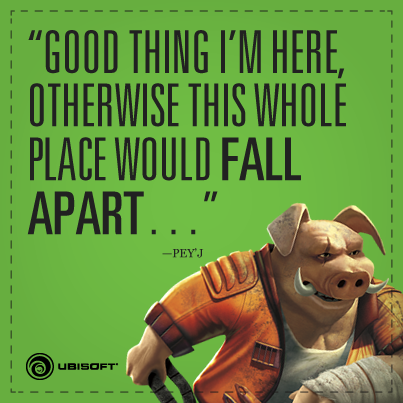 Ubisoft might have hinted at a possible Beyond Good & Evil 2 announcement on this year's e3 press coverage. The company has uploaded an image on their
official facebook-page
portraying
Pey'j
with his infamous: "Good thing I'm here, otherwhise this whole place would
fall apart
" quote several hours before Ubisoft's conference.
Ubisoft also added the following description to the image:
We're a bit busy prepping for E3. Time to call in some reinforcements. (Points if you remember this classic character!)
Could this be the 'new title in an existing franchise' that I talked about several weeks ago?
it is very likely that we finally get to see Beyond Good & Evil 2 again, since an French website claims that Rayman Legends is virtually ready and is just being fine-tuned as we speak... and that the Beyond Good & Evil 2 project has been continued for several months (specifically since April 2013).
Let's hope that all the fans read about this... and hopefully Ubisoft will finally unveil the game that we have cherished for so many years... It has been a long time...
Ubisoft's e3 press conference will start on June 10, 2013 at 6:00 PM Easter, 3:00 PM Pacific and 11:00 PM UTC (United Kingdom).
Wild Boar signing off....
Community content is available under
CC-BY-SA
unless otherwise noted.