Hey Hillyans,
Do you consider yourself not just an IRIS Agent, but something of an IRIS Artist? Well it's that time of the year again over at the BGE Club on Deviant Art, all through March you can submit your BGE related Art and creative works to the BGE Club to take part in a contest not only available to BGE Club members but anyone who has signed up to Deviant Art (although we highly suggest all budding Artists to join the club).
Jmk1999, the founder of BGE Club, can fill you in with the details on his blog post once you head over there (the link is below and on our homepage!), but you can submit your creative works and the best of the best will be voted on, and the winner will recieve Deviant Art points (which you can donate to if you are feeling generous by following the links on the blogpost)!
The greatest reward to be gained however may be the thrill of being a part of such a fantastic Beyond Good and Evil experience, and to interact with your fellow Beyond Good and Evil family. So please, whether you believe yourself to be an Artist of any form or not, go join up, take part or simply show your support!
Keep filing (and drawing... and painting... and just generally being creative!)
IRISIRISNetwork (talk) 19:45, March 10, 2014 (UTC)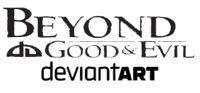 Community content is available under
CC-BY-SA
unless otherwise noted.