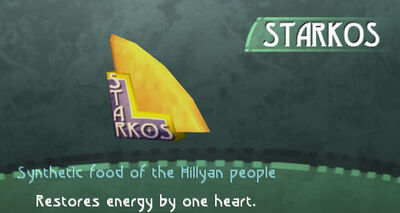 Item Name: Starkos
Description: A Starkos restores one heart of your energy.
Price: 150 units.
Description
Edit
A Starkos is a type of food that is native to Hillys and widely available throughout the land.
A single Starkos will replenish one heart container; Jade can collect them for herself and she can also give some to her partner to heal them.
We can watch a funny Starkos commercial on the huge screens that are present in several road sections inside the distinct race tracks.