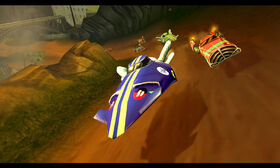 The other main attraction of Hillys City are the hovercraft races in which Jade can participate. Only the first two racetracks of the championship are available in the city, while the other half is situated on the island with the slaughterhouses.
The rules are very simple: the first racer to complete three laps wins a pearl and the three runner-ups will also qualify for the following race. Anything is permitted while racing: Jade can shoot at the other participants (though it doesn't necessarily slow them down) and use Boosts to gain the advantage. There are four races total, each with a different environment:
Race 1: a canal in the middle of Hillys City;
Race 2: a canal leading out of the city into the mountain;
Race 3: a canal in the middle of the slaughterhouses;
Race 4: another canal in the middle of the slaughterhouses.
The prizes for winning the races are the same for each race:
1st place: a pearl (if it's the first time completing the race) and 1000 units;
2nd place: 500 units;
3rd place: 250 units.
New Record: 500 units and Jade's Name is Displayed on a panel besides Mo in the Akuda bar
Though the first race is relatively easy, the following three gradually become more challenging, gaining in difficulty and intensity. The announcer of the races even warns the wimps, the weak and the wusses before each race that they still have three seconds to change their minds and leave (though it is impossible to do so). He even states with enthusiasm: "This is gonna be one heck of a race!! Blood, guts, fun for the whole family!!"
Announcer quotes
Edit
"The wimps, the weak and the wuss's, still have 3 more seconds to get the hell out here, and back to their knitting, ha ha!"
"It's the Little Rookie!"
"Last lap for the Little Rookie!"
Races 3 and 4 are built using paths and areas from the old slaughterhouses turned Race course.